I've always thought that cowl necks were the bomb.
They allowed you to camouflage your tummy roll while emphasizing your boobies.
And I LOVE emphasizing my boobies. (lol)
Anyway, I think that any plus girl without a good old cowl neck top in their wardrobe is  crazy.
The best thing about them is that you can dress them up or down.
Take a black sleeveless cowl neck for instance..
You can pair them with jeans, a pencil or bandage skirt, printed jeggings or shorts.
You can use stilettos, boots or flats.
And if you don't like accessorizing much, you can just have on a pair of dangling earrings.
If you feel like being more glam, on the other hand, you can put on a sparkly choker necklace.
Anyway, try it. I'm sure you'd fall in love with it. :)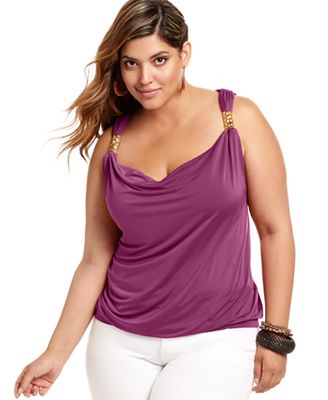 "I firmly believe that what makes you sexy and beautiful is not the size of your body or the colour lipstick you have on. What really makes you sexy is what you project, your confidence, and your self awareness, having a great sense of humour and being really smart."
— Kate Dillon (Plus Size Model)
I love skirts. In fact, I wear one almost everyday.
That is, if I am not wearing shorts. :)
So, I thought that this week, I'd share with you three of my top picks.
Here they are.
1. The Bubble/ Balloon Skirt
»> I love skirts which make me look like I have a smaller waist (don't we all!). The balloon skirt, being all 'balloony' actually does give a plus-sized woman more shape. I personally think that every girl must have one in her closet (or one in each of your favorite colors!)
2. The Tiered/ Layered Skirt
»> Like the Balloon skirt, this skirt allows a curvalicious woman to feel sexy and actually look sexy as well. With high-heeled pumps or wedges, you are all set to go to whatever party you are planning on going to. :)
3. The Pencil
»> The pencil skirt was not specifically designed for a plus sized woman but we make it look all sooooo good. :) Partner your dark-colored pencil with a loose and dressy top and put on those red pumps - You are all set to paint the town red!
I hope you girls like them! :)